WHAT TO EXPECT DURING FLOOD DAMAGE RESTORATION
IMMEDIATE RESPONSE, 24/7 SERVICE, COMPLETE REMEDIATION
Water damage restoration companies follow the standard operating procedure S500 established by the certifying bodies IICRC and RIA. When restoration companies are dealing with a damaged structure, they follow procedures helping them understand the intensity of the water problem, identify the category of water, and to recognize the source of seepage. Clean up and water removal needs to start immediately after entering the flooded area to prevent as much damage as possible.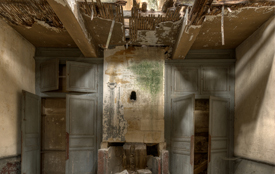 While the water damage restoration company you call will dispatch technicians immediately, flooding still demands immediate attention from residence owners as well. ,You should take initial steps to protect your property from damage by attempting to identify the source of leakage and control/stop it if possible. When the technician arrives to your location, they'll need to identify what type of inundation they are dealing with, the extent of flooding, the source of water, and the cause of seepage if not already identified by the property owner, delaying the water removal and restoration process. They will check whether emergency services are required to control the situation or not, and remove all furniture and other fixtures to protect them from water damage. Photos of damaged property will also be taken to secure your goods and help with insurance claims.
Next, your water removal company will survey the affected area and shut off the power for safety purposes. They'll scrutinize the damage caused by the flooding and document each and every step. Finally, they pump out the water, dehumidify the atmosphere, and reconstruct the affected area restoring it back to its pre-loss condition.
WHAT ABOUT  MOLD?
Mold growth is a very real possibility after a flooding incident. It's important to address mold problems during the restoration process to prevent future mold growth and avoid related costs, damage, and health issues. If mold spores are present, they simply need moisture to grow; allowing them to grow on virtually any surface. ERS is adept in mold inspection, source identification, and removal / treatment services. We'll ensure you have no moldy surprises after a flood and your home or business is restored back to its previous glory.