LIGHTNING STRIKE RENOVATIONS
24/7 CLEAN UP & REPAIR – ERS IS ONE CALL AND 60 MINUTES OR LESS AWAY
Emergency Restoration Specialists is who we are, and it's exactly what we do – there is no job too big, too gross, or too hard for the ERS team. Our emergency clean-up crew arrives to the scene within 60 minutes of your call, fully equipped and ready to work. When lightning strikes your home or business leaving disaster behind, call ERS to clean up the mess.
Costs are assessed on a case to case basis, determined by size of damage and clean up difficulty
WHEN A LIGHTNING STRIKE SPARKS A HOUSE FIRE, WHAT SHOULD YOU DO?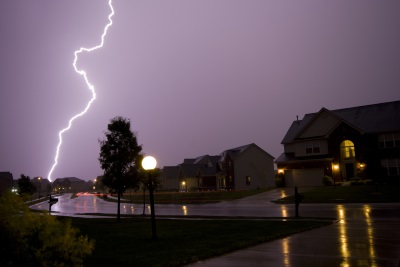 CALL ERS TO CLEAN UP THE MESS!
While you know the dangers of lightning striking a human, you're most likely unprepared for a thunderstorm turning into a house fire. As the bolt desperately tries to connect with the earth from the storm clouds, it carries up to one billion volts of electricity, leading to an extremely hot aftermath. For a home, that can easily result in fire. If the unexpected happens to you, call us! ERS arrives quickly to restore your home and property back to pre-fire condition with services including:
Fire and smoke damage restoration – remove the soot left behind by the fire, repair any burned or damaged areas (walls, ceilings, floors, carpet, and more)
Water damage repair – remove water left standing in your home from the firefighters hoses and dry any other wet furniture before it gets ruined
Roof and siding repairs – whether lightning burned your siding, the fire department made a hole in your roof to put the fire out, or the storm winds tore shingles from your roof, we'll repair it
Debris clean up – clean up all trash, burnt debris, ashes, etc. and leave your home and yard in good, clean condition
Removing a fallen tree – If a tree on your property has been struck by lightning – or storm winds blew a tree onto your home – you can count on ERS to safely cut and remove the fallen tree and repair any damage.