IS MY HOME PROPERLY VENTILATED?
AVOID MOLD BY REDUCING MOISTURE
Ventilation refers to the exchange of indoor and outdoor air. Without proper ventilation, an otherwise insulated and airtight house will seal in harmful pollutants, such as carbon monoxide, and moisture that can damage a house.
WHY VENTILATE?
To start, gases from combustion appliances, like your stove and fireplace, can accumulate in a poorly ventilated home, threatening your health and safety. Elevated levels of humidity can make cooling equipment work harder too, resulting in more costly energy bills. Most notably, excessive moisture in a home can lead to mold growth, ruined insulation, and even structural damage.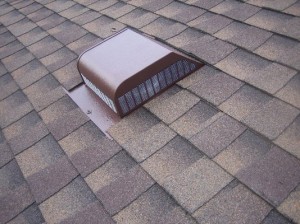 Mold can grow in any damp or wet area – from the bathroom to the basement, hiding in walls, carpeting, roofing, vents, and more. A poorly ventilated home creates exponential opportunities for mold growth, and in turn, possible health risks. While you can't always see mold (depending on its location), you may be experience the symptoms of mold growth; which are similar to hay-fever and can alert you to an infestation. If mold has started growing in your air ducts, it will be circulated throughout your indoor air when the HVAC system runs, triggering issues related to allergies, asthma, and illness.
AVOIDING MOISTURE PROBLEMS MEANS GOOD VENTILATION
When moist air encounters a colder surface, some of the moisture will condense and become a liquid. This happens on the surface of an iced tea glass, which is why you need a coaster to avoid water damage to a wooden table. In a similar way, moisture condensing inside a wall or in the attic can lead to wood rot and permit the growth of mold. To avoid moisture problems and ensure good ventilation, follow these steps:
Stop air leaks – To avoid condensation, seal all air-leakage paths between living spaces and other unconditioned parts of the house, such as attics, basements, and crawl spaces. Insulation alone cannot prevent moisture problems.
Control water – Minimize the chance of water entering your house by keeping the roof in good condition. Check caulking and flashing around windows, doors, tubs, and showers. Clear roof gutters of debris and drain moisture away from the house.
Ventilate indoor moisture – Inhabitants of a home generate moisture when they cook, shower, and do laundry. Just by breathing and perspiring, a typical family adds about three gallons of water per day to their indoor air. If a clothes dryer is not vented outside, or if the outdoor vent is closed off or clogged, all that moisture will enter the living space, too.
Kitchen and bathroom vents should lead directly outside and should never be vented into the attic, where moisture can cause serious problems and pose potential health problems.
Consider adding controlled ventilation after you air seal. It may be necessary to provide fresh air to avoid buildup of stale air and indoor air pollutants. Special air-to-air heat exchangers, or heat-recovery ventilators, can do this.
Have a moisture escape path – A dehumidifier can effectively reduce moisture levels (though it will increase your energy use).
A humidifier can provide comfort during the winter months, but use it only in rooms that have sufficient air flow to ventilate the room properly and prevent moisture issues.
Ventilate attics appropriately.
Emergency Restoration Specialists can provide testing, cleanup and prevention of your visible and non-visible mold concerns. Put your trust in the experienced professionals of Emergency Restoration Specialists. Call our Emergency Response Team Hotline 24/7/365 days @ (414) 348-9558.