GRAFFITI PROPERTY DAMAGE REMOVAL FROM ERS
PROFESSIONAL TAGGING CLEANUP SERVICES IN WISCONSIN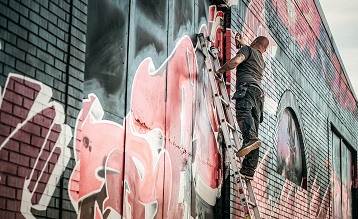 Graffiti is an art form which involves spray painting an image onto a large surface. When on public property, graffiti is a form of vandalism which can lower property value and create an eyesore. Spray paint is very difficult to remove, especially from porous surfaces like brick or concrete. Fortunately, Milwaukee's Emergency Restoration Specialists are here for graffiti removal and cleanup. We work on bringing residential and commercial surfaces back to their original appearance before they were vandalized. Look to ERS for immediate and efficient vandalism cleanup services.
GRAFFITI ELIMINATION FOR COMMERCIAL BUILDINGS & PUBLIC AREAS
High visibility areas are big targets for graffiti artists since it increases the chance of their work or "tag" being seen. As a result, common walkways, popular businesses, and public restrooms are just a few of the many locations tagged.
Places typically covered with graffiti include:
Street signs
Road work
Public restrooms
Fences
Exterior walls
Windows
Train yards
City buses
School property
Playgrounds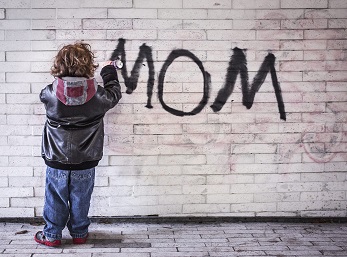 Graffiti artists won't stand a chance when you call our vandalism cleanup experts. We are one phone call away 24/7 to restore the appearance of your property. Leave the stress and the mess to ER
RESIDENTIAL PROPERTY GRAFFITI REMOVAL
In Wisconsin, tagging personal property is a Class A misdemeanor. This means graffiti is an act is punishable by jail time and/or a fine. As the owner of the damaged property, you have every right to press charges and possible receive financial compensation for cleanup.
We at ERS are here for you and will completely remove the unwanted paint. Our graffiti removal professionals have the right tools and buffing materials to effectively eliminate the marked-up area. We will arrive on the scene in under 60 minutes or less, guaranteed.
WHAT DO I DO AFTER MY PROPERTY IS TAGGED?
Handling a vandalism situation requires immediate action. Removing the street art right away prevents future occurrences and preserves your property and neighborhood's appeal. Do the right thing for your community.
If you see graffiti in progress, call your local police with a non-emergency number. Do NOT approach the tagger or try to intervene. Call ERS to arrange a quick cleanup of your property.
If you spot finished graffiti left at your home or business, contact the vandalism removal experts at ERS. We will arrive on the scene within 60 minutes of your call.
HOW TO HANDLE A GRAFFITI PROBLEM
Milwaukee's emergency restoration specialists are the professionals for commercial and residential graffiti removal. In addition to vandalism cleanup, we also perform fire, mold, water, and smoke damage remediation. No matter the size of the job, or degree of damage, we will completely restore your property back to its original state.