Don't Touch Smoky Items with Bare Hands!
Even if you are allowed to reenter the damaged building,call ERS before trying to clean anything up.
Acidic smoke particulates can combine with skin oils and could irreparably damage property that ERS would have been able to save.Call or contact us by email – click the button below.
Don't Touch Smoky Items with Bare Hands!
Even if you are allowed to reenter the damaged building,call ERS before trying to clean anything up.
Acidic smoke particulates can combine with skin oils and could irreparably damage property that ERS would have been able to save.Call or contact us by email – click the button below.



Fire and Smoke Damage Restoration
Best Disaster Recovery Company in SE Wisconsin
Fire is a universal threat to home and business owners. Even if the fire department extinguished the fire in time to salvage your house, you're not finished yet! Putting out the fire was just the beginning. Now you need to call the Emergency Restoration Specialists – ERS.
When you contact ERS, we will hurry over to the site of the fire and work quickly to restore the property. The fire department might have put out the fire with their hoses but once they leave the water still remains. This water, if left unattended, leads to damage from water. The fire also leaves behind its own damage too. Soot left over from the fire will be in all rooms touched by the fire and cover every surface in these rooms.
How Our Fire Restoration Pros Repair Your Building
When ERS arrives, we'll first assess the situation to see what the best plan of attack will be. Then our restoration experts will seal off any openings in the roof or walls created in the fire. You don't want rain pouring in through a new hole burned into the roof.
Once the risk of damage from water is taken care of, ERS will concentrate our attention on removing all the soot leftover from the fire. When the home is cleaned, we'll restore the damaged portions of the home to look just like they were before the fire broke out. Our 24/7 service ensures we'll be available to give you the care and attention you need when you need it. Fire damage remediation services at ERS include:
Wall, ceiling and floor repair
Smoke damage repair
Carpet cleaning or replacement
Upholstery cleaning
Damage repair
Don't let a fire threaten your quality of living and comfort.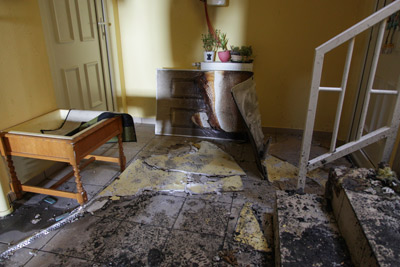 Types of Fire Damage and what it does to Your Home
The minute the flames are extinguished is when the hard work of restoration begins. Fire produces a dry heat, but as it is extinguished a humid and smoldering fire can raise humidity rapidly. Imagine a sauna: When water is added to heat, it produces a heavy water vapor.
When a house fire is put out, the resulting raised humidity opens the pores of wood materials, allowing moisture and particles in where they can wreak havoc on your home. The experts at Emergency Restoration Specialists have the tools and the talent to remove damaging moisture from your home in all its forms.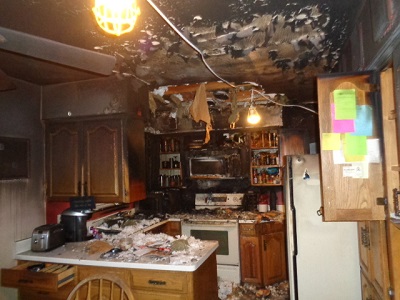 This is the inevitable result of stopping the fire from consuming your property. But it isn't all.
ERS Understands Smoke Damage in Your Home
The wood in your home produces a smoke that leaves a chalky black or dark grey residue when burned. Wood, which is a natural material, also produces a litany of toxic chemicals when it is burned, including:
Carbon Monoxide (CO) – as the name suggests, gas is produced by the partial oxidation of carbon materials. Carbon Monoxide poisoning results in headache, nausea, vomiting, coma and death.
Acetic acid (C2H4O2) – this organic compound a main component in vinegar and gives it its sour taste and pungent aroma.
Sulfur dioxide (SO2) – an irritant most often seen in areas of volcanic activity. It has a rotten egg smell and can cause respiratory problems and even death.
Benzene (C6H6) – present in crude oil and is a component in gasoline, this compound has a sweet smell. Benzene exposure is a known cause of bone marrow failures and various cancers.
Formaldehyde (CH2O) – highly toxic to humans and animals alike, this compound can result in pulmonary damage and has been linked various forms of leukemia.
…and more
These are compounds produced by the burning of only natural materials in your home. We could write a book on the amount of chemicals produced by burning the synthetic materials of your home. Burning synthetic materials leaves black smoke residue and toxic odors that will stick in your home for years if not cleaned.
Types of Smoke
Different types of fires produce different smoke. Smoke also changes its behavior depending on the environment, and results in different smoke damage. But regardless of conditions, smoke in your home will mean odors needing to be removed to maintain a healthy living atmosphere.
As fire burns, it creates dangerous pressures which spread smoke throughout the home. This is called driven smoke, which imprints its particles into the walls of your home.
Floating smoke occurs when pressure building inside the burning home is equalized with the outside pressure. This allows the smoke particles to settle on the ground and on any horizontal surface.
No matter the smoke type, ERS restores your home, carpets and furniture to their pre-fire condition. Milwaukee area home owners have trusted ERS with all of their disaster clean up needs since 1990.
ERS Soot, Smoke Damage and Debris Removal
There's really no avoiding the mess that will happen due to a fire and its extinguishing. But it doesn't need to be a total nightmare. When you call ERS fire restoration services, our IICRC cleaners get to work returning the house to its previous condition. Our goal is to reduce the stress on the homeowner after disaster, and Southeastern Wisconsin has come to depend on disaster relief from ERS.
Smoke Damage in Different Parts of the Home
If any smoke damage occurs in the home and areas are not almost immediately cleaned, the smoke and remaining soot can cause permanent damage to the property. ERS professionals begin the process of fire restoration to minimize the damage and to return the home to its previous state.
Types of Smoke Damage
Dry Smoke
Wet Smoke
Protein Smoke
Fuel/Oil Smoke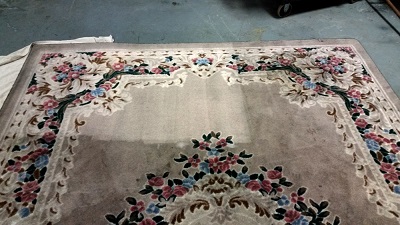 Cleaning Methods for Specific Items
A two-step process of removing soot and removing odor needs to be done correctly. In the simplest terms, restoring a home after smoke damage is about industrial grade chemicals and specific equipment.
Clothes and Curtains
A mixture of water and trisodium phosphate will be needed before you may safely wash your items in a regular washing machine. After the clothes are in the solution, additional washing cycles will be required to restore them without odor and damage.
Furniture
An industrial strength vacuum is needed to remove the soot. Any attempt to scrub out the soot will imbed the chemicals deeper into the product. To do correctly, hold the vacuum several inches above until completed properly. A sealed ozone layer works best to eliminate remaining smoke particles.
Carpet & Floors
An extraction machine or a thermal fogging machine is the most effective way to clean all of your main surfaces. The intensity and duration of this type of treatment needs to be monitored carefully.
The equipment and chemicals necessary for restoration depend heavily on the extent of the damage. Let experienced smoke damage ERS professionals take the stress out of restoring your home.
Helpful Tips for Removing Smoke and Odor Damage
Household cleaning products and deodorizers will only be a short-term fix for your damaged home. These products will counteract with soot to create even more permanent odors.
Ventilation of the heating and air conditioning ducts needs to be monitored to prevent toxic fumes from remaining in the home.
Humidity and dampness based on the current weather also needs to be taken into consideration.
Ample covers and sealed protection need to cover the clean parts of your home or odor and smoke particles could transfer while deodorizing in other areas of the property.
Airborne chemicals will be prevalent in the cleaning stages and can cause health problems.
Short term Harm
As soon as fire and smoke spreads, it is only a matter of time before the house is covered in the acidic soot. Most items will start to discolor turning to a yellow or brown shade within hours as the soot settles and begins staining.
If not treated quickly, the home risks the even more damage such as:
Wood & Furniture have a chance to be warped and may require refinishing
Metal starts to rust and corrode behind repair
Painted Walls will immediately show a yellow hue and rust
Flooring may need refinishing or complete replacement
Clothing & Bedding will have smoke odors in their fabrics until all of burned chemicals are gone
Electronics must be not be used after smoke damage has occurred because metal parts or electrical components could be corroded and have the potential be a serious hazard
Long term Harm
Soot is always found to be acidic. While the flames can destroy a home, leftover soot remaining on surfaces will continue to react to materials long after the fire has stopped. If not cleaned properly in a timely fashion, oxidation and discoloration will continue to damage all parts of the home. It will only take days after the initial spark to permanently discolor and rust the inside of the property.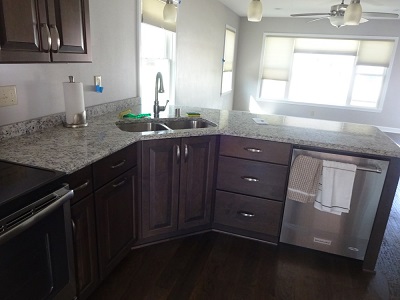 Milwaukee County
Milwaukee, Bayside, Brown Deer, Cudahy, Fox Point, Franklin, Glendale, Greendale, Greenfield, Hales Corners, Oak Creek, River Hills, St. Francis, Shorewood, South Milwaukee, Wauwatosa, West Allis, Whitefish Bay
Waukesha County
Big Bend, Brookfield, Butler, Chenequa, Delafield, Dousman, Eagle, Elm Grove, Hartland, Lac La Belle, Lannon, Lisbon, Menomonee Falls, Merton, Mukwonago, Muskego, Nashotah, New Berlin, North Prairie, Oconomowoc, Oconomowoc Lake, Okauchee Lake, Pewaukee City, Summit Village, Sussex, Wales, Waukesha
Dane County
Belleville, Black Earth, Blue Mounds, Brooklyn, Cambridge, Cottage Grove, Cross Plains, Dane, Deerfield, DeForest, Fitchburg, Madison, Maple Bluff, Marshall, McFarland, Middleton, Monona, Mount Horeb, Oregon, Rockdale, Shorewood Hills, Stoughton, Sun Prairie, Verona, Waunakee, Windsor
Washington County
Allenton, Colgate, Germantown, Hartford, Hubertus, Jackson, Kewaskum, Richfield, Slinger, West Bend
Ozaukee County
Belgium, Cedarburg, Fredonia, Mequon, Newburg, Ozaukee, Port Washington, Thiensville, Waubeka
Racine County
Bohners Lake, Browns Lake, Burlington, Caledonia, Eagle Lake, Elmwood Park, Franksville, Kanasaville, Mount Pleasant, North Bay, Racine, Rochester, Sturtevant, Tichigan, Union Grove, Waterford, Wind Lake, Wind Point
Kenosha County
Bristol, Camp Lake, Kenosha, Paddock Lake, Pleasant Prairie, Powers Lake, Silver Lake, Somers, Twin Lakes, Wilmot
Jefferson County
Fort Atkinson, Hebron, Helenville, Ixonia, Jefferson, Johnson Creek, Lake Koshkonong, Lake Mills
Bayfield County
Bayview
Walworth County
Honey Creek
Illinois
Arlington Heights, Chicago, Evanston, Harvard, McHenry, Rockford, Schaumburg, Waukegan