CAN MOLD CAUSE HEALTH PROBLEM
LEARN THE ANSWER TO THIS MOLD QUESTION AND MORE BELOW!
Yes, mold has the potential to cause health problems if there is an infestation in your home. Molds produce allergens (substances that can cause allergic reactions), irritants, and in some cases, potentially toxic substances (mycotoxins).
Inhaling or touching mold or mold spores may cause allergic reactions in sensitive individuals. Allergic responses include hay fever-type symptoms, such as sneezing, runny nose, red eyes, and skin rash (dermatitis). Allergic reactions to mold are common. They can be immediate or delayed. Molds can also cause asthma attacks in people with asthma who are allergic to mold. In addition, mold exposure can irritate the eyes, skin, nose, throat, and lungs of both mold-allergic and non-allergic people. Symptoms other than the allergic and irritant types are not commonly reported as a result of inhaling mold.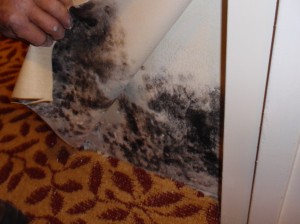 Research on mold and health effects is ongoing. For more detailed information consult a health professional. You may also wish to consult your state or local health department.
How Does Mold Start and Where Does it Hide?
Molds are usually not a problem indoors unless mold spores land on a wet or damp spot and begin growing. While your basement and bathroom is the most likely place mold will grow, any moist area can become infested with mold – including ductwork, carpets, furniture, under sinks, roofing, drywall, and more. It's easier than you'd think for mold spores to enter your home too – it can blow into your home from open windows, doors and, vents; or be carried in on pets, shoes, and clothing. If you see mold growing in your home, or are experiencing the symptoms above and suspect mold is the cause, call professional mold removers to uncover the problem and resolve the issue immediately.
Related questions:
Call ERS for Mold Removal in Wisconsin
Emergency Restoration Specialists can provide testing, cleanup and prevention of your visible and non-visible mold concerns. Put your trust in the experienced professionals of Emergency Restoration Specialists. Call our Emergency Response Team Hotline 24/7/365 days @ (414) 348-9558.