BENEFITS OF USING A WATER DAMAGE RESTORATION COMPANY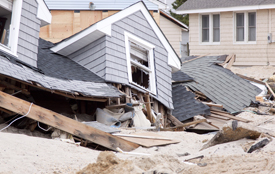 Minimize Damage & Ultimately Costs
If flooding has left your residential or commercial property in shambles, call a reputable Emergency Restoration Company for immediate help to minimize loss and damage. Professional water damage restoration companies operate 24 hours a day seven days a week. It's vital to understand time is of the essence in cases of water damage. Delay in clean-up and restoration can cause huge amounts of damage and makes the restoration process more difficult.
If flooding was caused by bursting water pipes, arrest the water immediately and call professionals for quality assistance. Identifying the cause of leakage before water removal technicians arrive at the affected area will help them get to work immediately on clean up and restoration instead of spending precious time identifying the source. The sooner they recognize the source, the less damage you can expect.
Make Filing Insurance Claims Easy
Water Damage Restoration Companies help homes and business alike restore their property back to its original glory. We also provide assistance in insurance claims. Some companies will bill their services directly to the insurance company rather than billing the property owner. Emergency restoration companies offering this sought after perk will assign an insurance expert tasked with preparing the necessary paperwork to help property owners receive their claims easily. With the help of professionals, owners can save a lot of time and stress to receive claims for water damage. Insurance claims help you cover all restoration expenses including restoring your property back to pre-damaged condition. Hiring a company to solve the problem is a good idea.
Identifying and Removing Mold
If you're hiring a water damage restoration company to clean-up your home or business after a flood, make sure they're proficient in mold removal. It's likely, depending on the amount of water present and how long it takes to remove, that you'll have a mold problem. It only takes 24 – 48 hours in the right conditions for mold to grow. Since mold can grow on any surface that's damp or moist – like walls, under carpeting and furniture, in cabinets, and literally anywhere else – it often goes unnoticed. You want professionals capable of identifying sources of mold and providing the right solution to ensure you mold problem is completely remediated. If mold is left unaddressed, it can damage property, decrease the value of your home, and cause health issues in those with mold allergies, asthma, or other respiratory problems. ERS is IICRC certified and our mold removers are experts at inspecting, identifying, and treating mold. With a 100% satisfaction guarantee, you'll be beyond happy with the results when ERS is on the job.
Why Choose ERS as Your Water Damage Restoration Company:
25+ years in business
Reliable, trustworthy services
Serving SE Wisconsin & Northern Illinois
Available 24/7/365
Arrive within 60 minutes of your call
IICRC-Certified
Fully licensed, bonded, and insured
100% satisfaction guarantee
Free online quotes